FGN News,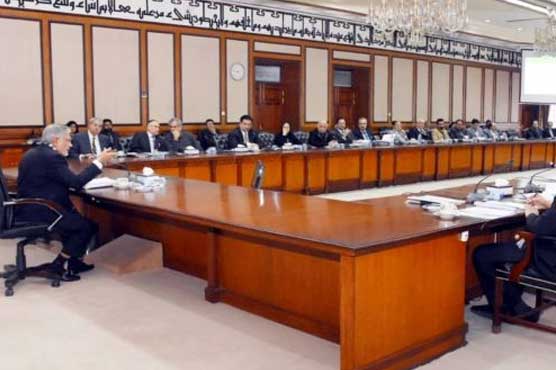 ISLAMABAD: (Web Desk) The Economic Coordination Committee (ECC) of the Cabinet has approved a technical supplementary grant of Rs 8.39 billion for the Benazir Income Support Program in the context of wheat seed subsidy for the Rabi 2022-23 crop.
The Economic Coordination Committee meeting of the Cabinet was chaired by Finance Minister Ishaq Dar, in which Federal Ministers Syed Naveed Qamar, Khurram Dastgir Khan, Ahsan Iqbal, Syed Murtaza Mehmood, Dr. Ayesha Ghos Pasha, former Prime Minister Shahid Khaqan Abbasi, Special Assistant on Finance Tariq Bajwa, Special Assistant Revenue Tariq Mehmood Pasha, Special Assistant Dr. Muhammad Jahanzeb Khan, Prime Minister's Coordinator Rana Ehsan Afzal, Federal Secretaries and senior officers who attended.
At the meeting, a summary of the extension of the Adam X One Development and Production lease from February 10, 2022 to reduce the burden on the country's oil and gas imports by the Ministry of Energy was presented and reviewed on February 10, 2015 Granted 7 -year lease of the Adam X-One.
Extended exploration period of Umeer SE One Discovery Gaddu well has been given one year extension, the extension period will start from the start of production, the meeting was informed that OGDCL has been granted exploration license for Gaddu block in 1999. The Ministry of National Health Services also allowed an increase in the MRPS of a drug on the recommendation of the Drug Price Committee.
In the ECC meeting, on the brief of the Ministry of Commerce, the Trading Corporation of Pakistan was authorized to inspect the imported wheat at loading ports by 6 pre-approved international inspection agencies before shipment. The shipment of imported wheat has arrived in the coming months.
In the meeting, a summary was presented on behalf of the Ministry of Poverty Alleviation and Social Security regarding the wheat seed subsidy for the Rabi 2022-23 crop, where permission to provide 8.39 billion rupees in the form of technical supplementary grant for Benazir Income Support Program is provided, as these wheat seeds will be given to farmers in flood affected areas.
The ECC directed the BISP to initiate the process of disbursement of cash amounts through partner banks, to the beneficiaries selected by the Government of Sindh as per the eligibility criteria.
At the meeting, in the Home Ministry summaries, the financial assistance of Rs. 10 million has also been approved for the families of martyrs in the recent suicide attack on Islamabad's IT center and Rs. 20 million for their relatives. who died on the long march of a political party.