FGN News,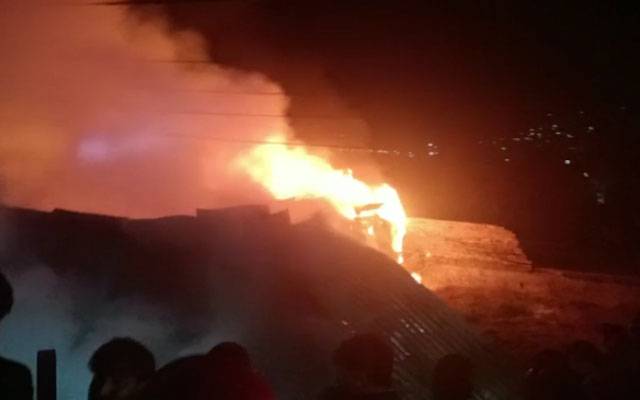 Web Desk: A house caught fire due to gas leakage explosion in Abbottabad, 6 persons including 4 children were burnt to death while 2 persons were injured.
According to the details, the explosion of gas leakage in Abbottabad Salahd enveloped the entire house, due to the fire, eight members of the same family were burned in the house, of which six died including four children, the condition of 2 is critical.
Immediately after the fire, rescue teams reached the spot, after the fire was brought under control, the injured bodies were shifted to DHQ Hospital. Rescuer Muhammad Arif said they reached the spot within 4 minutes and started rescue operations. The fire was saved. from further spread and further damage due to the timely rescue operation, for which the local people gave credit to the rescue team.
Rescue officer Muhammad Arif appealed to citizens to be careful in using gas and other fuels that cause fire so as not to destroy important lives.
It may be noted that another tragic accident took place today, a passenger bus going from Gilgit to Rawalpindi fell into a deep ravine. In the terrible accident, 25 were killed and 15 were injured. According to rescue sources, the injured and the dead were transferred to Shatial Hospital Deputy Commissioner Diamar Fayyaz Ahmed said that the passenger bus belongs to a private company that goes from Ghazar to Rawalpindi.